Welcome to our website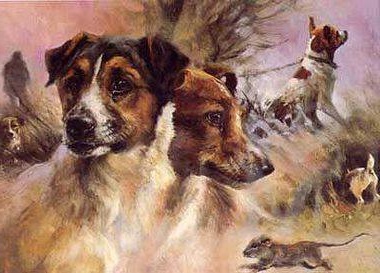 We are Leon and Marleen Theunissen and live in the nature reserve of Neeroeteren, (Maaseik Belgium). We only breed with the Jack Russell Terrier, we breed for health, character and beauty, under our kennel name The Dutch Jacks.
We are officially recognized by the K.M.S.H. and are a member of the N.V.J.R.T in the Netherlands. All our dogs are pure breed and have an official pedigree of the K.M.S.H. All our Jack Russell Terriers also have a D.N.A. profile, health statements from an eye specialist / orthopedist. The patella is examined with 1 year and the eyes every year. Leaving them free from patellar luxation and eye disorders. Our dogs live in and around our house, they can go outside and stay on the spacious playgrounds. Our Jacks do not live in kennels and are certainly not locked up in a loft all day.
On our website you can find various information about the Jack Russell Terrier, you can also see when puppies are born and if and when puppies are available.
Leon and Marleen Theunissen
Langerenstraat 102, B-3680 Maaseik (Belgium)
Warning: "continue" targeting switch is equivalent to "break". Did you mean to use "continue 2"? in /data/www/jackrussellterrier.be/www/templates/dj2/functions.php on line 185